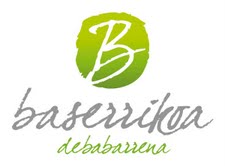 BASERRIKOA Debabarrena is an initiative launched by the Rural Development Association of Debabarrena, DEBEMEN, with the support of the municipalities of the region and the Provincial Council of Gipuzkoa. Its aim is to socialize and raise awareness about the products of the farm and the rural environment.
In 2016 work began on a new strategy in collaboration with the merchants of the region. As a result of this collaboration, the distinctive "Baserrikoa" was created to facilitate the identification of the producers of the region, the points of sale and the products they offer.
With this initiative, Debemen seeks to add value to the products of the village, improving identification in small businesses in the region and, at the same time, boost local trade by supporting the initiatives of producers, traders and consumers.
The distinctive "Baserrikoa" can be found in markets and fairs, but also in the baskets of consumer groups, in home sales, in hamlets... and also online.
Debabarrena, España
Gipuzkoa, Basque Country